Compliance solutions provider Solidus Labs has secured a stellar guest to head up its maiden crypto compliance summit.
Solidus Labs' one-day event, taking place at Hogan Lovells, Madison Avenue on Thursday, will culminate in a talk by reigning SEC Commissioner Hester M. Peirce.
Also speaking at the event, which includes a series of panel discussions, will be Coinbase Chief Compliance Officer Jeff Horowitz and representatives from Circle, CryptoCompare, and David Weild IV, former Vice-Chairman of NASDAQ.
Not Your Usual Commissioner
Cryptocurrency regulators aren't often spoken of affectionately within the crypto space, but Hester M. Peirce isn't just any regulator. As Commissioner of the US Securities and Exchange Commission, Peirce wields significant sway over policy within the frothy crypto markets, and her word carries weight. Despite this fact, Peirce has elected to take a light touch so far, striving to maintain a balance between enforcing policy while promoting entrepreneurship.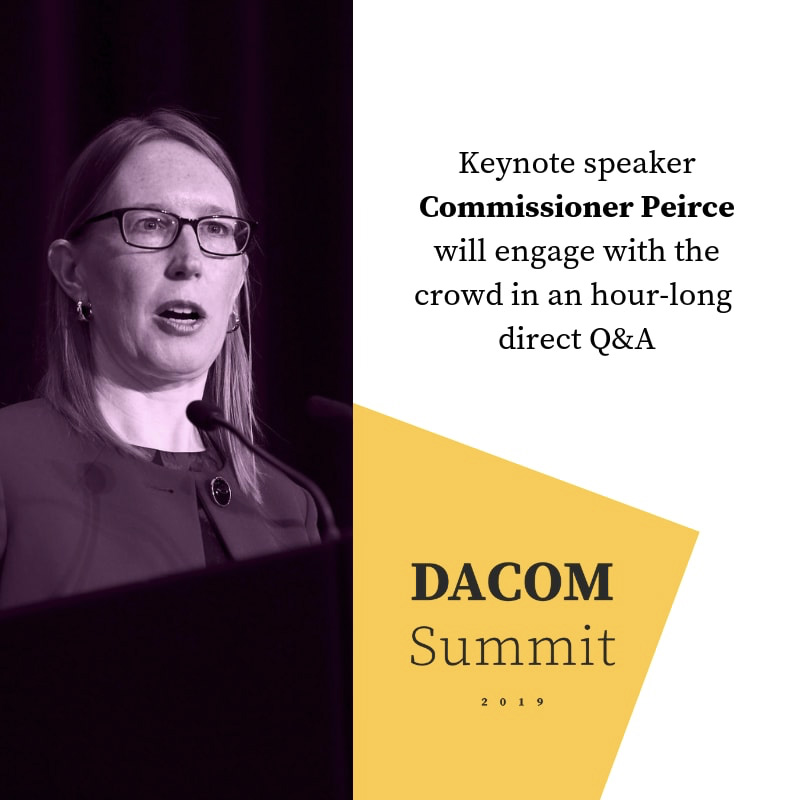 It's a delicate balancing act for the Commissioner, who was sworn into office in January 2018, but so far she's succeeded in doing her job, without alienating vast swathes of the cryptosphere. The achievement has landed her the nickname Crypto Mom, and caused those whose business intersect with the compliance side of the crypto space to hang on her every word.
At the Digital Asset Compliance and Market Integrity Summit on Thursday, organized by Solidus Labs, there should be plenty of words to linger over. In addition to delivering the keynote at the New York event, the Commissioner will be fielding questions from delegates.
How Crypto Dad Begat Crypto Mom
Before crypto gained a matriarchal figure in Hester Peirce, it had Crypto Dad – former CTFC chair J. Christopher Giancarlo. Giancarlo earned the support of Bitcoiners everywhere after telling a US Senate Banking Committee that regulators should aim to "do no harm" in overseeing the blockchain industry. The Commodity Futures Trading Commission chair has since stepped down, but has not left the cryptosphere altogether – he now serves on the advisory board to blockchain advocacy group the Chamber of Digital Commerce.
With J. Christopher Giancarlo stepping away from the limelight, the stage was set for Peirce to step into the role of Crypto Mom, a moniker she has since embraced. The Commissioner first earned the title last September, commenting "I have always wanted to be a mother, so acquiring this new title was quite an honor."
Peirce was back in the news in February when she spoke favorably of a Bitcoin exchange-traded fund (ETF), while criticizing the "arcane rules" preventing it from happening sooner.
Fostering a Culture of Compliance
Aside from giving the crypto media an opportunity to dissect Peirce's soundbites, the compliance summit will give organizers Solidus Labs a chance to foster stronger ties with the companies that use its market surveillance and transaction monitoring software. The event will also lay the groundwork for ongoing dialogue among compliance professionals in attendance.
Cryptocurrency regulation is a thorny issue, pitting those who want greater regulatory clarity against those who wish it didn't exist at all. Bitcoin was born in the shadows, in an era when KYC and AML were virtually unheard of, and libertarian ideology held sway. As it's entered the mainstream, however, attracting interest from Wall Street, as well as from "Main Street" as SEC Chairman Jay Clayton recently referred to retail investors, tighter regulation has followed.
US exchanges are duty-bound to adhere closely to compliance matters, particularly in New York, where the rigorous BitLicense dictates which companies are allowed to play. Some, such as Gemini, have embraced the era of tighter regulations, famously running with the slogan "Crypto needs rules." Those denied a BitLicense, however, such as Bittrex, have been less enamored with its notoriously exacting stipulations.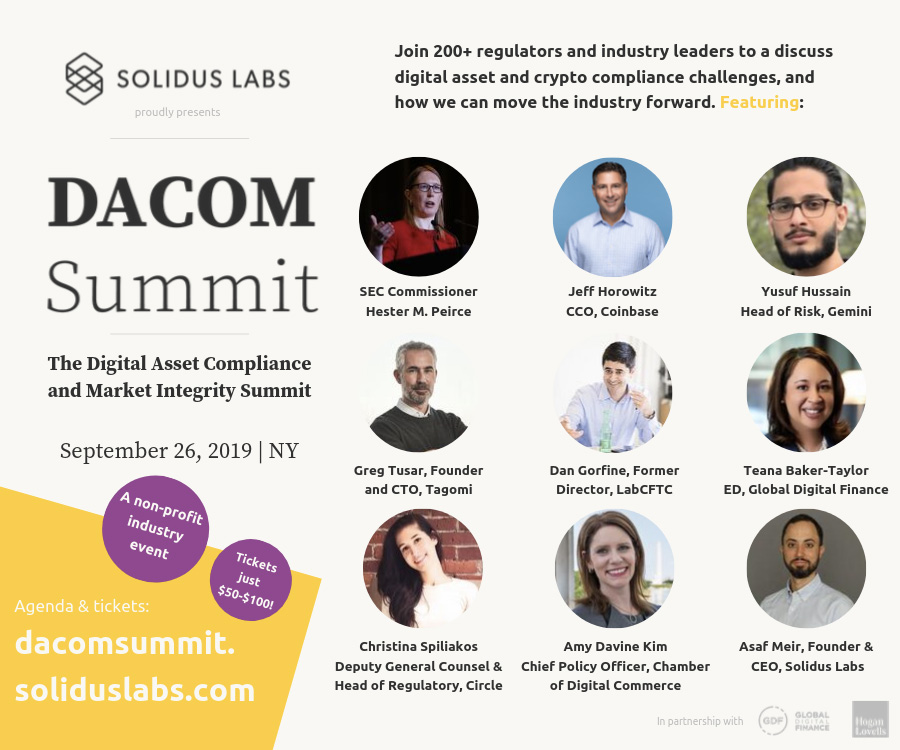 At the Digital Asset Compliance and Market Integrity Summit on Thursday, stakeholders will be given a chance to have their say on where the crypto industry goes from here.